How do we monitor air pollution?
Air pollution is monitored at certain sites around Scotland 24 hours a day. There are many different ways of sampling the air to check how polluted it is.
Ways to sample ambient air
There are 5 main methods of sampling air quality:
1. Passive Monitoring
Diffusion tubes absorb a specific pollutant from the ambient air - no power supply is needed
Diffusion tubes normally monitor for 2-4 weeks at a time
The tubes must be sent to a laboratory for analysis to see how much pollution they have detected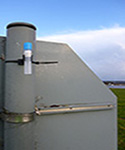 2. Active (Semi Automatic) Sampling
An analyser pulls the ambient air through a filter for a set period of time e.g one filter per day
The filters are then collected and sent to a laboratory for analysis to see how much pollution they have detected

3. Automatic point monitoring
Ambient air is pulled through an analyser which recognises the chosen gas and will calculate its concentration
Automatic sites monitor pollutants 24hours a day
Data is sent from the site directly to your computer which means it can be seen instantly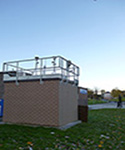 All the information gathered from automatic point monitoring sites published online to let the public know what the current air quality is like. There is also a forecasting system called 'Know & Respond' which alerts you if poor air quality is forecast for the day ahead.
4. Photochemical and optical sensor systems
These are portable monitoring tools that can continuously monitor a range of pollutants. The sensors are of low sensitivity and mostly suitable for identifying hotspots at roadsides and near point sources.
Data can be downloaded to your computer and analysed.

5. Remote optical/long-path monitoring
This method of sampling detects pollution between a a light source and a detector which are placed separately at a site
Real time measurements can be taken with this type of sampling.
Data can be sent from the analyser directly to your computer which means it can be seen instantly